Loanapalooza
LOANAPALOOZA is back!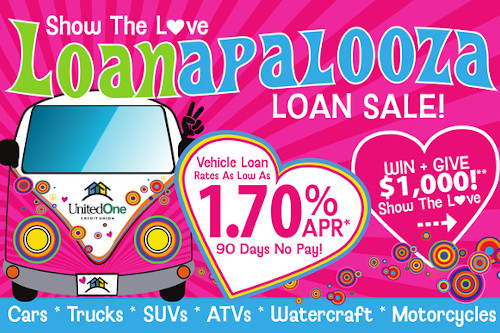 Are you looking to finance a new car, truck, motorcycle, SUV, RV, ATV, boat, or personal watercraft? Check out our annual Loanapalooza event! Current offerings include 90 days no payments, and vehicle loan rates as low as 1.70% APR*! If you have a loan with a different lender, refinance at UnitedOne and save.
Get a loan during our Loanapalooza vehicle loan sale and you'll be automatically entered
to WIN 1 of 6 $1000 CASH GIVEAWAYS! If you win, UnitedOne will donate $1000 to
a local 501c3 organization of your choice, as our way of showing the love.**
Keep reading to learn more about our loan services.

Consumer and Recreational Vehicle Loans
At UnitedOne Credit Union, we understand that you may need a vehicle loan to help move your life forward. We've been there. We've helped other members in similar situations, and we can help you too! We offer our credit union members a wide range of loan services to meet their current needs and lifestyle.

Recreational Vehicle Loans
We want our members to get the most out of life. We care about the work we do and set out to exceed your expectations with every loan. Our goal is to be the top provider for RV and boat loans in Sheboygan and Manitowoc Counties. If you're looking to dive into the world of recreational vehicle loans, schedule an appointment with one of our Member Service Representatives (MSR).

Consumer Vehicle Loans
In addition to recreational vehicle loans, UnitedOne Credit Union provides consumer vehicle loans for you and your family. We work hard to get you an affordable loan so you can drive off in the car you need. Whether you're searching for a pre-owned or new car, we can help you get an auto loan with low rates and flexible terms to stay within your budget.

Loanapalooza ends soon, so apply for your loan or book an appointment with one of our MSRs today!
*APR = Annual Percentage Rate. Your credit score, loan term, loan-to-value, year of vehicle and account relationship determine your rate. Rate stated is for borrowers with excellent credit history and a vehicle 2018 or newer, plus minimum new money of $5,000.00, an active UnitedOne Credit Union checking account, direct deposit, and automatic payments. Monthly payments per $1,000.00 borrowed are $17.40 at 1.70% APR for 60 months. First payment may be deferred for 90 days on select auto loans. Finance charges begin accruing when loan is funded. Not all applicants will qualify for the 90-day deferred payment and other exclusions may apply. Other loan types not eligible for this offer. Additional rates and terms available, please contact us for details. UnitedOne Credit Union membership required. Offer effective April 1, 2021, and subject to change at any time without notice.
**No purchase necessary. For complete Loanapalooza Show The Love sweepstakes rules visit
www.UnitedOne.org/Loanapalooza. Offer ends 4/30/2021 at 5 p.m.

About UnitedOne
When you join UnitedOne Credit Union, you become a member-owner of a not-for-profit financial institution with a history of success and service dating back more than 80 years. From humble beginnings in 1938, UnitedOne has grown to be one of the largest credit unions in the area serving those who live and work in Manitowoc, Sheboygan, Kewaunee, and Door counties. Our "We're here because you're here" philosophy continues to grow our reputation of strength, stability, service, and convenience today. We embrace a successful and straight-forward member-owned cooperative mission: meet the financial needs of our members by empowering them with the knowledge to make informed financial decisions. That's the UnitedOne difference.
To learn more about our services, contact us today! You can book an appointment online to see a Member Service Representative or Mortgage Specialist. You can also call us at 920-684-0361 or 920-451-8222.
Sources
https://www.unitedone.org/auto-loans
https://www.unitedone.org/loanapalooza
https://www.unitedone.org/about-unitedone

« Return to "Blog"