Show the Love! Loanapalooza Vehicle Loan Sale is Here!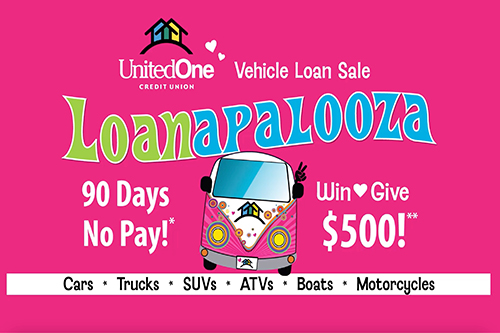 Loan payments have been making life difficult for everyone across the country due to rising interest rates. Take a much-needed break for the summer with Loanapalooza and make no loan payments for 90 days* while enjoying one of these vehicles.
Get a loan during our Loanapalooza vehicle loan sale and you'll be automatically entered to win 1 of 5 $500 CASH GIVEAWAYS! If you win, UnitedOne will DONATE $500 to a local 501c3 organization of your choice as our way of showing the love**!
Cars. Are you looking to upgrade from your current vehicle? Get your brand new car in time for summer and for an instant lifestyle upgrade! Get the fuel efficient vehicle to save up on gas or spoil yourself with a brand new muscle car.
Trucks. Get the towing power you need with no interest payments for 90 days and add some adventure to your life!
SUVs. Growing family or looking to upgrade in size? No problem! Loanapalooza is your way to upgrade to the new family hauler or ride around in comfort you desire.
RVs. Are you looking to go on the road trip this summer? Wait no more! RVs provide you with not only the privacy and comfort but also the ability to bring your whole family along with your pets while you travel across the United States.
Motorcycle. Save money on gas and become a king of the road with your brand new motorcycle. Make new friends while riding around in style and making no loan payments for 90 days.
ATVs. Connect with nature and discover the beautiful Wisconsin countryside in a brand new ATV. Get additional traction as you blaze through trails or haul wood for a bonfire celebration with friends and family.
Personal Watercraft. With the boating season fast approaching, get the new boat to enjoy our beautiful Wisconsin lakes with.
AND if you have a loan with a different lender, refinance at UnitedOne and SAVE! Ask about our electronic signature and virtual appointment options
At UnitedOne Credit Union, we are member-centric. We've been where you are now, we've helped others in similar situations, and we can help you too! We are your personal loan providers in Sheboygan, Manitowoc, and the surrounding areas in Wisconsin. We provide our credit union members with a wide range of loan services to cover their needs and lifestyle. To get access to all of the amazing benefits that come with being a member of UnitedCredit Union consider joining us! If you are looking for a friendly and professional personal loan service to help you move your life forward, get in touch with our team of personal money lenders today. We are here because you're here!
*Rate will vary based on your creditworthiness, loan term, loan-to-value, and year of vehicle; Minimum new money of $5,000.00 with an active UnitedOne checking account, net direct deposit, and automatic payments are required. Mortgages, home equity loans, commercial loans, personal loans, lines of credit, and share secured loans are excluded from this offer. First payment may be deferred for 90 days on select vehicle loans. Finance charges begin accruing when loan is funded. Not all applicants will qualify for the 90-day deferred payment, and other exclusions may apply. Other rates and terms available, please contact us for details. UnitedOne Credit Union membership required. Offer effective May 1, 2023, and subject to change at any time without notice.

**No purchase necessary. For complete Loanapalooza Show The Love sweepstakes rules visit www.UnitedOne.org/Loanapalooza. Sweepstakes ends 5/31/2023 at 5 p.m.
« Return to "Blog"