IMAGINE Loan: A Loan for Anything!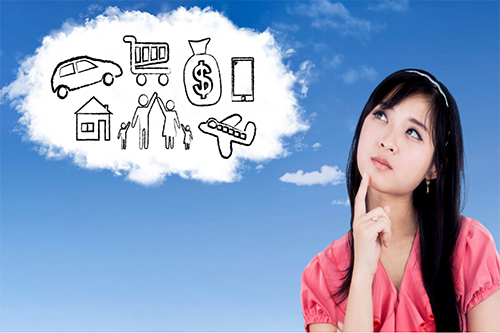 IMAGINE consolidating debt.
IMAGINE making car repairs.
IMAGINE paying off student loans.
IMAGINE enjoying things like your dream wedding, family vacation, or something special for yourself!
Can you really get a personal loan to cover almost anything you can IMAGINE? Yes! It's the IMAGINE LOAN, exclusively for UnitedOne Credit Union members!
At UnitedOne Credit Union, we continue to improve and evolve our financial products and offerings to best serve our members. Our IMAGINE LOAN personal loan provides you with the cash you need at low rates with fixed monthly payments.
We created the IMAGINE Loan to assist you in whatever life throws your way. Whether you're a young professional in need of financial assistance with student loan debt, a home down payment, your wedding, a newly retired citizen paying off medical expenses, or finally taking that dream vacation, the IMAGINE Loan is here for you!
IMAGINE Loans are a great way to consolidate debt, which can be a huge relief for anyone with mortgage payments, credit card debt, or other financial obligations. In addition, the IMAGINE Loan is a signature loan; you don't need to provide collateral - only your signature. Plus, great, budget-friendly rates are available:
Applying for an IMAGINE Loan is quick and easy! Fill out the online application, upload all necessary documentation, and wait to be approved by UnitedOne Credit Union. Our team is dedicated to finding the right loan and payment plan that fits your needs and budget.
Do you need a loan but aren't sure if the IMAGINE Loan is right for you? View a complete list of our personal and small business loans. To get started, apply today or schedule an appointment with a Member Service Representative.
Join UnitedOne
When you join UnitedOne Credit Union, you become a member-owner of a not-for-profit financial institution with a history of success and service dating back to 1938. No one works harder to provide you and your family with first-class financial services delivered through outstanding personal service. That's the UnitedOne difference and how our "We're here because you're here" philosophy continues to grow our reputation of strength, stability, service, and convenience today.
To learn more about our services or how to apply for a loan, visit our website or call us at 920-684-0361 or 920-451-8222.
Other rates and terms available. Membership Eligibility Required. Contact loans@UnitedOne.org for details. Normal credit standards apply. Call for additional rates.
« Return to "Blog"