Common Mistakes to Avoid While Balancing a Checking Account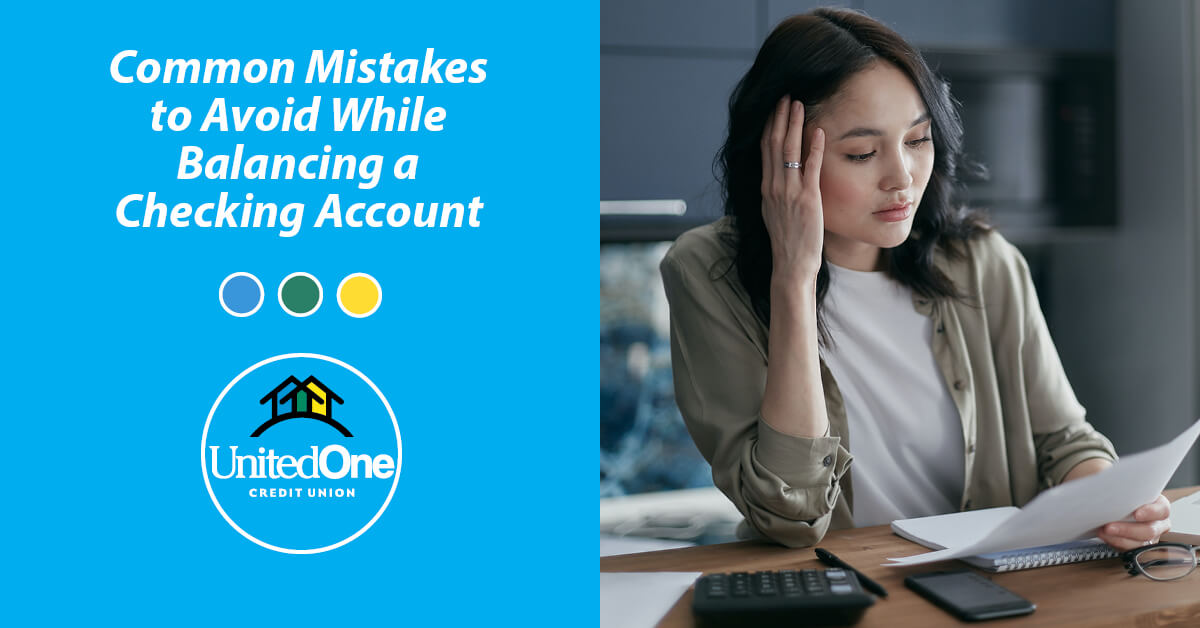 If you're having problems balancing your checking account, look for the following errors that are easy to spot and correct.
Addition or subtraction errors

Transposing numbers (Example: $12 is recorded as $21)

Forgetting to subtract fees such as:

ATM fees

Check orders

Overdraft fees

Monthly service fees

Paper statement fee

Forgetting to add or subtract items such as:

Debit card transactions

Automatic loan payments

Automatic transfers to or from savings

Automatic payments, dues, bills (insurance, internet, cell phone, etc.)

Automatic deposits

ATM withdrawals or deposits

Dividends earned
Balance your account monthly, and use a ledger, even if you don't write checks. Utilize our convenient E-Services, like Digital Banking to view your account anytime, anywhere. You can even set up Alerts to receive notifications on your balance and transactions.

If you can't seem to find the issue, set it aside and look at it again later, or have a friend or family member look it over for you.

If you are still unable to balance your account, feel free to reach out to us. We are happy to take a look at it for you, but an Account Research/Reconciliation fee may apply. You can find this fee listed on our Fee Schedule.

About UnitedOne
UnitedOne Credit Union has branches in Manitowoc and Sheboygan, and is open to everyone living or working in Manitowoc, Sheboygan, Kewaunee and Door counties. The credit union serves consumers and small to mid-sized businesses.

When you join UnitedOne Credit Union, you become a member-owner of a not-for-profit financial institution with a history of success and service dating back more than 80 years. Our "We're here because you're here" philosophy continues to grow our reputation of strength, stability, service, and convenience today. We embrace a successful and straightforward member-owned cooperative mission: meet the financial needs of our members by empowering them with the knowledge to make informed financial decisions. That's the UnitedOne difference.

To learn more about our services, contact us today! You can book an appointment online to see a Member Service Representative or Mortgage Specialist. You can also call us at 920-684-0361 or 920-451-8222.
« Return to "Blog"