October is Cybersecurity Awareness Month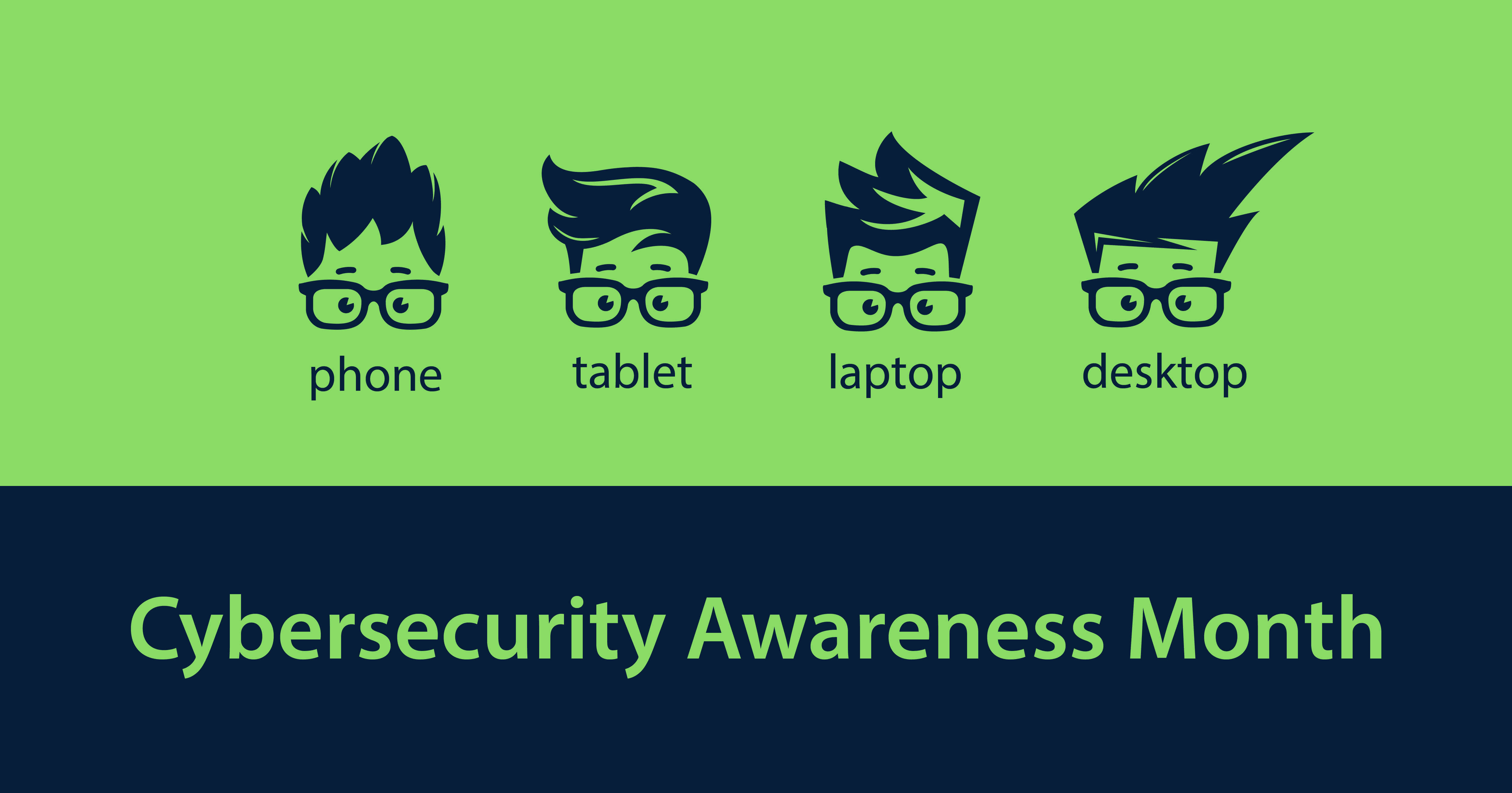 Today we are connected to our smartphones or a computer wherever we go, because of that our world is becoming increasingly dependent on cybersecurity.

UnitedOne Credit Union is proud to be a part of the national Cybersecurity Awareness Month to help us all understand the latest ways to protect ourselves, our work places, and our family and friends online.

Cybersecurity is the art of protecting networks, devices, and data from unlawful access or criminal use, and providing confidentiality, integrity, and availability of information.

Much of your personal information is stored either on your computer, smartphone, or tablet. Knowing how to protect your information is important, not just for individuals but for organizations, as well.

Every time you use the internet, you face choices related to your security. Your security and the security of the nation depends on making responsible online decisions. Making the internet safe and secure requires all of us to take responsibility for our own cybersecurity behavior.

Know Your Cyber Basics

Recognize and Report Phishing: If a link looks a little off, think before you click. It could be an attempt to get sensitive information or install malware.

Update Your Software: Don't delay – if you see a software update notification, act promptly. Better yet, turn on automatic updates.

Use Strong Passwords: Use passwords that are long, unique, and randomly generated. Use password managers to generate and remember different, complex passwords for each of your accounts. A password manager will encrypt passwords securing them for you!

Enable Multi-Factor Authentication: You need more than a password to protect your online accounts, and enabling MFA makes you significantly less likely to get hacked.

Potential Threats

Malware: A computer can be damaged or the information it contains harmed by malicious code (also known as malware). A malicious program can be a virus, a worm, or a Trojan horse. Hackers, intruders, and attackers are in it to make money off these software flaws.

Identity Theft and Scams: Identity theft and scams are crimes of opportunity, and even those who never use computers can be victims. There are several ways criminals can access your information, including stealing your wallet, overhearing a phone call, looking through your trash, or picking up a receipt that contains your account number.

Phishing: Phishing attacks use emails, texts, and malicious websites that appear to be trusted organizations, such as charity organizations or online stores, to obtain user personal information

Tips for Spotting Fraud

Keeping our members' accounts secure is a top priority at UnitedOne Credit Union. Whether you are offline or online, please be vigilant with your account information at all times and the devices you access it on as well.

As technology changes and advances, so do the methods used by scammers and hackers to try to obtain and compromise your information. Individuals attempting to commit fraud may try to trick you by claiming to be someone they are not, including sending emails and texts or making phone calls from addresses and phone numbers that look legitimate.

If you are ever feel like somebody is posing wrongfully as a UnitedOne Credit Union employee, or if you suspect your financial safety has been compromised, please contact us immediately by calling (920) 684-0361 or (920) 451-8222.

Taking note of the ways UnitedOne and our partners will and won't contact you can help you spot fraud and keep your account secure.
UnitedOne will never call, email or contact you asking for your member ID, account number or Digital Banking password.




UnitedOne will never contact you asking for your credit card or debit card number, PIN, or security code.




To ensure UnitedOne employees are helping the correct member they may ask you questions that only you would be able to answer, like where did you use your card last or where does your direct deposit come from. These questions are for your protection.




Neither our debit card nor our credit card provider will initiate contact by email regarding a problem with your card.




As a UnitedOne debit card holder, you get the added protection to have fraud monitoring on your card. Our Visa Fraud Department may notify you if it notices any unusual transactions with your card. They may call or text to question if a transaction was authorized by you. If the answer is no, your card is shut down immediately. Your card may not work properly until confirmation of the transactions in question is received.



About UnitedOne
UnitedOne Credit Union has branches in Manitowoc and Sheboygan, and is open to everyone living or working in Manitowoc, Sheboygan, Kewaunee and Door counties. The credit union serves consumers and small to mid-sized businesses.

When you join UnitedOne Credit Union, you become a member-owner of a not-for-profit financial institution with a history of success and service dating back more than 80 years. Our "We're here because you're here" philosophy continues to grow our reputation of strength, stability, service, and convenience today. We embrace a successful and straightforward member-owned cooperative mission: meet the financial needs of our members by empowering them with the knowledge to make informed financial decisions. That's the UnitedOne difference.

To learn more about our services, contact us today! You can book an appointment online to see a Member Service Representative or Mortgage Specialist. You can also call us at 920-684-0361 or 920-451-8222.

Source
https://www.cisa.gov/cybersecurity-awareness-month
« Return to "Blog"