Ratebusters: Unlike Banks, UnitedOne Credit Union is not Afraid to Show the Rates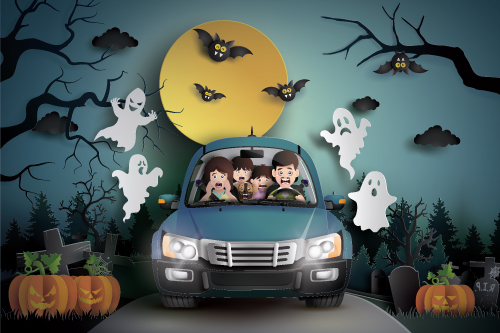 October is the scary time of the year all around, from Halloween costumes and decorations, to scary movies on TV, and this year many financial institutions are joining in. This comes in the form of banks being more secretive about rates. Loan rates are not the only thing that banks are not being transparent about as there are also many hidden fees that come with opening a checking or savings account. These hidden fees may end up being a bigger surprise than a twist in the M. Night Shyamalan film. This is not something that you will see at UnitedOne, it is our goal for you to keep as much of your money in your pocket as possible.
Unlike banks, UnitedOne Credit Union is transparent about loan rates and goes even further by helping our members to avoid hidden fees. If you're interested in opening a savings account, you can get started with your savings plan at UnitedOne as well and view comparison between savings rates on our site as well. Below are examples of different types of hidden feels you may encounter with banks:
Out-of-network ATM fees

Insufficient fund fees

Paper statement fees

Wire transfer fees

Account closing fees

Lost card fees
Don't be shackled by fears of hidden fees and make a purchase of your dreams with UnitedOne:
Vehicle Loans. UnitedOne offers secured loans for cars, trucks, SUVs, motorcycles, ATVs, snowmobiles, RVs, boats, and personal watercraft. Get your brand new vehicle in time for harsh Wisconsin winter and feel safer on the road!
Mortgage Loans. Whether you're looking to purchase a brand new home or use existing home equity to remodel your house, UnitedOne is the right place for you. With an affordable home equity loan you can design the perfect kitchen, create a relaxing outdoor space, or reduce your energy bills with energy-efficient upgrades.
Avoid predatory lending practices and hidden fees by becoming a member at UnitedOne Credit Union if you live in Manitowoc, Sheboygan, Kewaunee, and Door Counties. At UnitedOne Credit Union, we understand where you're coming from. We've been where you are now, we've helped others in similar situations, and we can help you too! We are your personal loan providers for Sheboygan, Manitowoc, and surrounding communities. Our wide range of local loan services cover the needs and lifestyles of local people, just like you. If you are looking for a friendly and professional personal loan service to help you move your life forward, get in touch with our team of personal money lenders.
« Return to "Blog"