Reasons to Love a Credit Union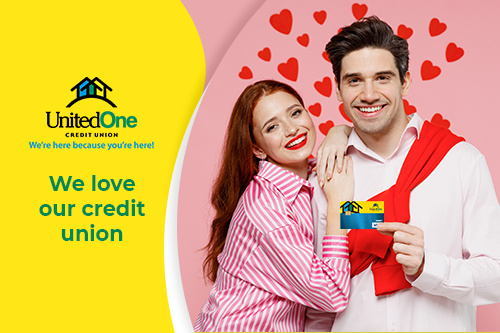 February is the month of love, and people look forward to sharing the love with those they care about. For UnitedOne Credit Union, this is also a time to spread love and show people who are considering joining a credit union that we do much more than conventional banks. We love people, and have been in operation since 1938, we constantly provide financial opportunities to improve the lives of our members. If you are wondering whether we are worth your love, here are eight reasons to love our credit union.
UnitedOne is Your Credit Union
As a member of UnitedOne Credit Union, you automatically become an owner. A credit union is a cooperative business unit that is owned and operated by its members. This is different from other business units, such as banks that are owned by stockholders. Being an owner means that you have voting rights and will earn dividends of surplus income earned by the credit union.
You are Our Top Priority
Credit unions work for the best interest of all their members. Being relatively smaller than other national financial institutions, being a credit union allows our employees to get-to-know our members. Thus allowing our team to understand your financial needs and give you a customized banking experience.
Not-for-Profit
Credit Unions operate as not-for-profit cooperatives. This allows us to offer higher interest rates on share certificates and saving accounts, but low-interest rates on credit cards and loans. We also aim to put our members before corporate profits.
Safety for Your Money
Just like big banks, credit unions are also insured. Our credit union is insured by the National Credit Union Administration (NCUA) which offers coverage on funds in a similar manner as FDIC does for banks. Under this cover, your funds are insured for up to $250,000 and backed by the United States government.
Lower Fees
Credit unions offer lower fees and fewer account fees compared to other financial institutions. Since our members are the owners of the business, we do not worry about stockholders pushing for the highest possible profits. We only focus on the needs of the members and achieving lower fees.
More Accessibility
Being a credit union allows us to make it easy for you to access your account on the go or near your home. We have six locations and even school branches in Manitowoc and Sheboygan, Wisconsin. You can also access your funds through the more than 5,000 Alliance One ATMs located across the United States.
We Go the Extra Mile
Credit unions are formed to help people. Therefore, we go the extra mile in ensuring that we are doing all we can to get you approved for a loan. Our loan eligibility requirement is less rigid and we will be willing to work with you even with a low credit score. Going the extra mile makes the credit union helpful, especially to people who have been denied a loan from a bank.
Community Support
Our credit union is a member of a community that we strive to strengthen by serving and giving back. We invest in people living in Manitowoc, Sheboygan, Kewaunee, and Door counties through financial support, volunteerism, creating public awareness, and fundraising. Join our community on Facebook to stay up-to-date on our ongoing community events.
As you celebrate love with the ones you love the most, remember that we also love our members. Continue believing and trusting us as your financial partner to propel you towards achieving your financial goals.
« Return to "Blog"