Tips for Keeping Your Account Safe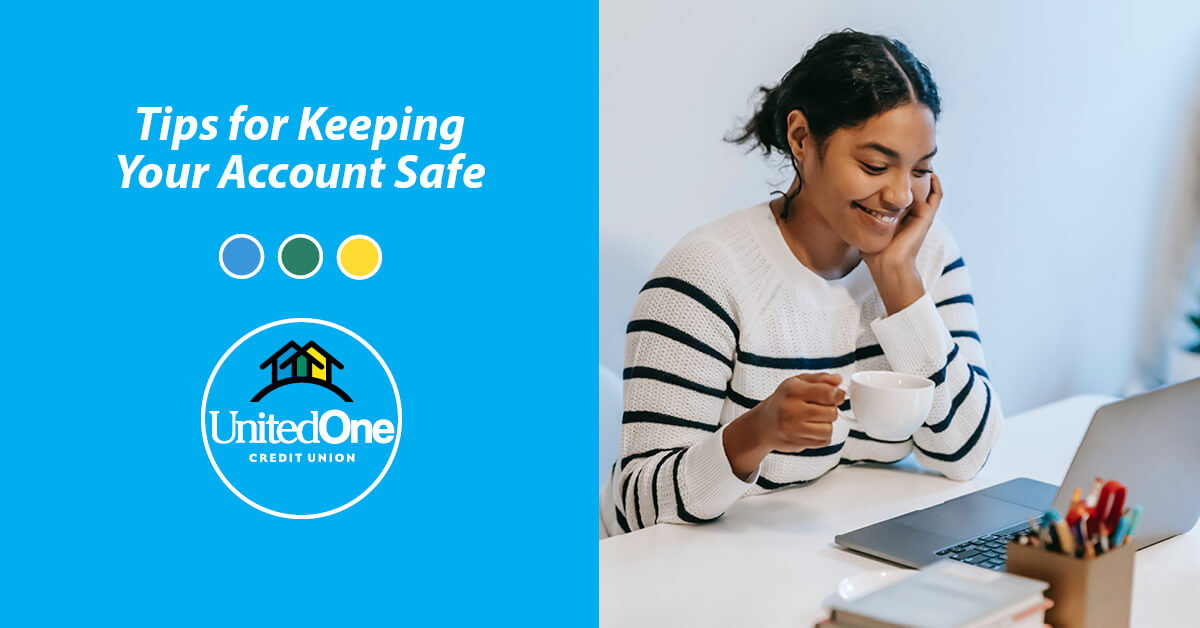 Here at UnitedOne Credit Union, taking measures to keep your finances safe and secure is an ongoing mission.
In today's digital world where more people are transacting business electronically more than ever, it's unfortunate individuals are working hard to find new scams to target unsuspecting consumers.
One of the best ways to avoid becoming a victim is by becoming an educated consumer. We're here to help you with the following information to help you keep your account safe.
Tips for Keeping Your Account Safe
Monitor your account activity regularly by using Digital Banking or Touch Tone Teller, even if you don't have transactions often. The sooner you identify any potential problems, the sooner we'll be able to help you fix them.

Consider setting up free Alerts within Digital Banking, Bill Payer and your credit card. These alerts notify you of activity relating to many different types of transactions. You choose the specific alerts you want.

Never share PINs, passwords or account numbers for your debit or credit card, Digital Banking, Touch Tone Teller, etc. Do not write them in any place that can be seen or found by others.

Keep your personal information private. Emails and text messages can be masked to look like they are coming from a trusted source. Do not send your account number, debit or credit card number, Social Security number, passwords, etc. by email or text message, unless you're using a secure email system with which you are familiar.
About UnitedOne
UnitedOne Credit Union has branches in Manitowoc and Sheboygan, and is open to everyone living or working in Manitowoc, Sheboygan, Kewaunee and Door counties. The credit union serves consumers and small to mid-sized businesses.

When you join UnitedOne Credit Union, you become a member-owner of a not-for-profit financial institution with a history of success and service dating back more than 80 years. Our "We're here because you're here" philosophy continues to grow our reputation of strength, stability, service, and convenience today. We embrace a successful and straightforward member-owned cooperative mission: meet the financial needs of our members by empowering them with the knowledge to make informed financial decisions. That's the UnitedOne difference.

To learn more about our services, contact us today! You can book an appointment online to see a Member Service Representative or Mortgage Specialist. You can also call us at 920-684-0361 or 920-451-8222.
« Return to "Blog"