Virtual Appointments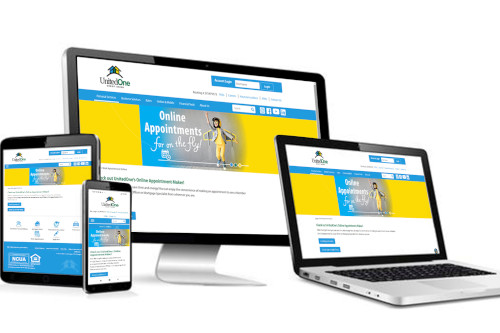 Save time and energy with UnitedOne's Online Appointment Maker. Enjoy the convenience of making an appointment with a Member Service Representative (MSR), Loan Officer, or Mortgage Specialist from the comfort of your home or wherever you are.
We offer a variety of options to meet with one of our banking specialists. Save a trip to the branch by using a video or phone appointment to help with your banking needs. The technology is easy to use, confidential and secure. Our specialists are here to help you at your convenience.
You can book a virtual appointment to talk about almost any service we offer including:
Loans & Mortgages

Personal Accounts, Loans, & Services (i.e. new memberships; opening a new checking, savings, money market, or IRA account)

Business Accounts, Loans, & Services (i.e. checking, credit card, merchant services)

Other Financial Needs (i.e. notarizing documents)

Curbside Pickup
After you choose your desired service, you can select the location of your appointment:
Video Call. Schedule a secure and confidential face-to-face consultation. Video appointments can be attended by computer, tablet, or smartphone. Please note that video calls require a camera or webcam, mic, and an internet connection.
Phone Call. Talk at a time that's convenient for you. Schedule a confidential phone appointment at a time convenient for you. An MSR will call you at the number you provided.
In-person. Save time waiting in line by scheduling an appointment ahead of time. If you are not feeling well, please stay home and schedule a phone or video appointment.
Once your meeting preference is selected, you can pick the date and time that works best with your schedule. For added personalized, you can also schedule with the MSR of your choice. Continue by filling out your name and contact information, click "Book Appointment," and you're scheduled! For virtual video appointments, a link will be sent to your email after confirmation.
Virtual appointments are designed for your convenience. By scheduling a virtual appointment, a UnitedOne Credit Union specialist will be ready for you at your selected date and time to discuss your financial needs. You can save a trip to the branch and not worry about waiting in line.
When you join UnitedOne Credit Union, you become a member-owner of a not-for-profit financial institution with a history of success and service dating back to 1938. No one works harder to provide you and your family with first-class financial services delivered through outstanding personal service. That's the UnitedOne difference and how our "We're here because you're here" philosophy continues to grow our reputation of strength, stability, service, and convenience today. To learn more about our services or how to become a member, visit our website, schedule a virtual appointment, or call us at 920-684-0361.

« Return to "Blog"