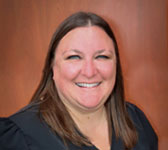 Nellie Weiss
Business Relationship Specialist
NMLS # 2065109
2122 Superior Avenue
Sheboygan, WI 53081 View Map
Email nweiss@UnitedOne.org
General email BusinessLoans@UnitedOne.org
Phone 920-694-3924
Cell 920-323-9418
Business Hours: Monday through Friday 9:00 a.m. – 5:00 p.m.
Nellie Weiss has been with UnitedOne since 2010 and a part of the Business team as the Business Relationship Specialist since 2017. She works in both our Manitowoc and Sheboygan markets. Nellie, her boyfriend, and their two cats live in Elkhart Lake. In her free time, she likes to golf, fish, hunt, camp, and go to the races at Road America and their local dirt track.
Nellie is active with the Sheboygan County Chamber of Commerce and is on the Leadership Sheboygan Curriculum Committee. Nellie has been a Sheboygan County Best under 40 nominee and Athena Leadership nominee. She is also a Sheboygan County Chamber Royal Ambassador and is a Certified Business Development Professional through CUNA (CUBDP).