Join our Loanapalooza




Show The Love Vehicle Loan Sale!
Groovy Low Rates -> Hurry, Limited Time Offer!
Apply Online Today Book Appointment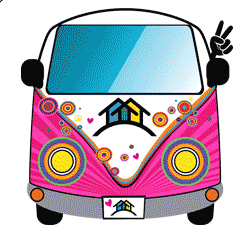 Loanapalooza is back!
We're here for you, whether you want to get your groove on with a swell new
CAR * TRUCK * SUV * RV * MOTORCYCLE * ATV * PERSONAL WATERCRAFT!
AND if you have a loan with a different lender, refinance at UnitedOne and $AVE!
Rates as low as

1.70%

APR* on new & used vehicle loans
No Payments for 90 Days
Up to 110% financing on vehicle loans
Ask about our electronic signature and virtual appointment options
---

CONGRATULATIONS again to all of our 501c3 organizations who received their $1,000 Show The Love donation!
We're in the process of selecting our last round of $1,000 WINNERS, so please check back in to see who will be next to hold our BIG check and $1,000 richer! We're proud to be supporting our community since 1938.
Our Loanapalooza Loan Sale is not over yet! We're still Showing The Love with our great 1.70%APR* vehicle loan rate!
---
Congratulations to our $1,000 GIVEAWAY WINNERS!
Showing The Love Sweepstakes wrapped up 4/30/2021 at 5 p.m.


$1,000 WINNERS Dick and Chris K. accepting their check from Kim G. our Sheboygan Member Service Representative at our Superior Ave. office. They selected the Lions Club International Foundation as part of the Sheboygan Noon Lions Club # 10452 to receive our $1,000 Show The Love donation.

Jay R. accepts his BIG $1,000 check from Bill N. our Member Service Representative at our 10th St. Manitowoc office. He selected the Mishicot Area Ambulance to receive our $1,000 Show The Love donation.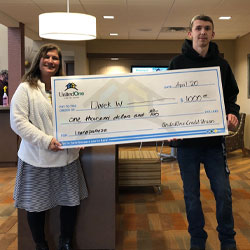 Monica B. our Member Service Representative at our 10th St. branch delivered our BIG $1,000 check to WINNER Darek W. He selected the Mishicot Indians Baseball Association to receive our $1,000 Show The Love donation.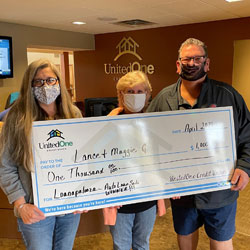 Congratulations to Lance and Maggie G. on being our Loanapalooza vehicle loan sale $1,000 WINNERS! Our UnitedOne CEO Kim Rooney happily delivered their BIG check. As their 501c3, they selected the Children's Wisconsin Foundation to receive our $1,000 Show The Love donation.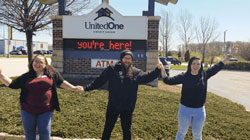 Congratulations to Ben D. on being our $1,000 Loanapalooza vehicle loan sale WINNER! Marla H. our Member Service Representative at our Washington Ave. office in Sheboygan, CELEBRATED by doing a WINNING wave with Ben and friend. He selected the Humane Society of Sheboygan County to receive our $1,000 Show The Love donation.
---
We're here because you deserve some financial love!
Have questions about our vehicle loan sale?
Email us at loans@UnitedOne.org or call 920-684-0361 in Manitowoc or 920-451-8222 in Sheboygan.
Not yet a UnitedOne member?
Everyone living or working in Manitowoc, Sheboygan, Kewaunee or Door counties is eligible to join.
---
*APR = Annual Percentage Rate. Your credit score, loan term, loan-to-value, year of vehicle and account relationship determine your rate. Rate stated is for borrowers with excellent credit history and a vehicle 2018 or newer, plus minimum new money of $5,000.00, an active UnitedOne Credit Union checking account, direct deposit, and automatic payments. Monthly payments per $1,000.00 borrowed are $17.40 at 1.70% APR for 60 months. First payment may be deferred for 90 days on select auto loans. Finance charges begin accruing when loan is funded. Not all applicants will qualify for the 90-day deferred payment and other exclusions may apply. Other loan types not eligible for this offer. Additional rates and terms available, please contact us for details. UnitedOne Credit Union membership required. Offer effective April 1, 2021, and subject to change at any time without notice.
---
**No purchase necessary. For complete Loanapalooza Show The Love sweepstakes rules continue reading or click to learn more. Offer ends 4/30/2021 at 5 p.m.
Official Rules for the 2021 "Loanapalooza" Sweepstakes
NO PURCHASE IS NECESSARY IN ORDER TO ENTER THE SWEEPSTAKES.
EACH SWEEPSTAKES ENTRY WILL HAVE AN EQUAL CHANCE OF WINNING.
UnitedOne Credit Union is the sponsor of the Sweepstakes. UnitedOne Credit Union's address is: 1117 S. 10th St., Manitowoc, WI 54220.
Sweepstakes Period: Begins April 1, 2021 at 9:00 a.m. and ends April 30, 2021 at 5:00 p.m., Central Standard Time.
By entering this Sweepstakes, entrants accept and agree to be bound by these Official Sweepstakes Rules and the decisions of UnitedOne Credit Union. Sweepstakes void where prohibited by law.
Sweepstakes Entries: All "Loanapalooza" loans funded during the Sweepstakes Period will be automatically entered into the sweepstakes to win one of six (6) Grand Prizes. See terms of our "Loanapalooza" promotion to determine eligible loans at www.UnitedOne.org. To enter the Sweepstakes without funding a loan at UnitedOne Credit Union, clearly print your name, address, telephone number and the words "Loanapalooza" on a 3" x 5" card and mail the card in an envelope to: "Loanapalooza Sweepstakes", 1117 S. 10th St., Manitowoc, WI 54220. Entries by mail must be at UnitedOne Credit Union before the April 30, 2021 Sweepstakes deadline. UnitedOne Credit Union is not responsible for misdirected, damaged, illegible, postage-due or incomplete entries not received by the deadline. Entries by entry card and automatically generated entries have equal chances of winning.
If an entry form that was entered by mail is drawn, but judges are unable to determine the winner because of illegible writing, that entry form will be disqualified, and another chosen until a winner is deter­mined.
Prize Drawings: Two (2) winning names will be drawn each week for three (3) consecutive weeks to win a Grand Prize. Each of the six (6) winners will win $1,000.00 cash. Only one person per household may be a winner. In addition to winning $1,000.00 cash, each winner may choose a local 501c3 located in Manitowoc County or Sheboygan County. This local 501(c)(3) will be given a $1,000.00 donation from UnitedOne Credit Union.
There will be a total of three (3) drawings with two (2) Grand Prize winners per drawing. The three (3) weekly prize drawings will be held by UnitedOne Credit Union representatives at 5:00 pm CST on April 12, April 19 and May 5, 2021. At these drawings, UnitedOne Credit Union will randomly select two (2) weekly Grand Prize winners from all qualifying names. The names of the winners will be available upon request.
Liability/General Rules: UnitedOne Credit Union is not responsible for any loss, which may occur in connection with the winning or the use of any prize. Entrant agrees to hold UnitedOne Credit Union harmless from any liability arising from participation in the Sweepstakes or the acceptance, receipt, possession, or misuse of the prize. UnitedOne Credit Union and each of its officers, directors, employees, members, representatives and agents are not responsible for any negligence, claims, liability, injury, property loss, or other damages of entrants and/or winners arising from, or in connection with, accep­tance, receipt, possession, or use/misuse of prizes awarded or participation in this Sweepstakes.
(Continued) Liability/General Rules: UnitedOne Credit Union is not responsible for any incorrect or inaccurate information, whether caused by tampering, hacking, or by any of the equipment or programming associated with the Sweepstakes.
UnitedOne Credit Union reserves the right to disqualify entrants who fail to follow these Official Rules or who may make any misrepresentations relative to the Sweepstakes and redemption of a prize.
Age/Membership Qualification: All entrants must be age 21 or older as of April 1, 2021, the start date of the Sweepstakes and a member in good standing at UnitedOne Credit Union.
Prize Description: $1,000.00 cash.
Tax Issues: UnitedOne Credit Union will report all prize winnings to the appropriate state and fed­eral agencies as required by applicable law. Sweepstakes prize value may be taxable as income to the prize recipient; winner is responsible for all tax consequences of the prize.
Publicity Authorization: Each winner agrees to permit UnitedOne Credit Union to utilize his/her name and likeness in promotional and other UnitedOne Credit Union materials, without additional compensation or permission, except where prohibited by law.
Additional Terms: By participating, entrants agree to these Official Rules and that the decision of UnitedOne Credit Union shall be final in all respects. UnitedOne Credit Union employees, officials, and members of their immediate families are not eligible to participate in the Sweepstakes.
Choice of Law: All issues and questions concerning the construction, validity, interpretation, and enforceability of these Official Rules, or the rights and obligations of entrant and the UnitedOne Credit Union in connection with the Sweepstakes, shall be governed by, and construed in accor­dance with, the substantive laws of the state of Wisconsin, USA, without regard to choice of law rules.
Consumer Disclosure: Odds of winning depend upon number of entries received
Questions: May be addressed to M. Farley, UnitedOne Credit Union, 1117 S. 10th St., Manitowoc, WI 54220, 920-684-0361.