Stash Your Cash To WIN $$$$
Saver's Sweepstakes®, a prize-linked savings account presented by UnitedOne, gives you the chance to WIN monthly, quarterly and annual statewide prizes ranging from
$25 - $5,000!
---
August 2023 WINNERS
These UnitedOne members stashed their cash and WON $$$$
$25 Monthly UOCU Winners: Robyn S., Michael K., and Paul W.

$100 Statewide Winner: Dan D.
---
In addition to statewide prizes, UnitedOne is offering special members-only prize drawings each month!
> You earn an entry into the statewide and members-only drawings when you increase your month-over-month savings balance by $25 (up to six entries per month). The more you save, the more chances you'll have to WIN!
> Check out the Prize Pool below to find out how many winners there will be each month and how much money you'll have the chance to WIN!
> Learn more about Saver's Sweepstakes savings accounts by viewing the 2023 Drawings + FAQs section below.
Are you up for the Saver's Sweepstakes challenge? Open your Saver's Sweepstakes account today at any UnitedOne office by emailing us at Savings@UnitedOne.org or call 920-684-0361 in Manitowoc and 920-451-8222 in Sheboygan. We'd be happy to help you so you can start saving – and earning chances to WIN – today!
Saver's Sweepstakes®
Statewide - 2023 Prize Pool
Prize Drawings
Winners
Prize Amounts
Monthly
75
$100.00
Quarterly
5
$1,000.00
Annual (ICU Day)
1
$5,000.00
Holiday (November)
10
$500.00
Total
UnitedOne Credit Union - 2023 Prize Pool
Entrees Per Month
Winners Per Month
Prize
6
3
$25. 00
2023 DRAWINGS + FAQs:
> The primary account holder earns one entry for every $25 increase in month-over-month account balance.
> The number of prizes, prize denominations and prize pools depend on the total participation by credit unions, and are subject to change at The Wisconsin Credit Union League's discretion. As the prize pool increases, the number and/or amounts will also increase.
> Open to everyone living or working in Sheboygan & Manitowoc Counties. Insured by NCUA.
> Contact us to see UnitedOne Credit Union Saver's Sweepstakes full terms and conditions.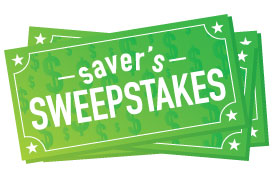 We're here because it's never too late to start $aving.
Learn about some helpful $aving strategies:
> Get Out of Debt
> Save for a Home, Large Purchases, Emergencies
> AND MORE!
---

Open a Saver's Sweepstakes account and the next winner could be you!
View a full listing of Saver's Sweepstakes winners from around the state of Wisconsin!
Saving can be FUN at any age!