Access Your Accounts From Anywhere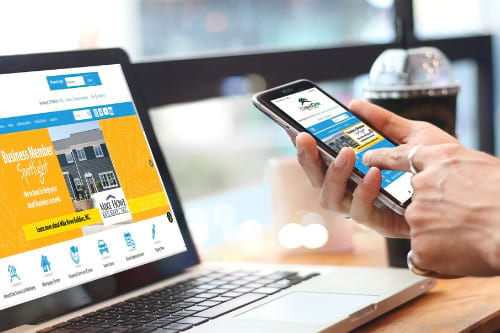 When COVID-19 limited in-person financial services, many of our members turned to online banking for the first time. What was once considered a convenience is now a necessity for our community. Recent research from J.D. Power shows that nearly one-third of consumers use online banking more than they did pre-COVID. The same study reveals less than 50% of consumers plan to return to "banking as usual" post-pandemic.
Online banking is here to stay. At UnitedOne Credit Union, we offer the convenience of Digital Banking.
What is Digital Banking?
Put simply; Digital Banking is the branch that never closes. Our Digital Banking allows you instant access to your money 24/7/365 from your computer, tablet, or phone—all in the comfort of your home. It eliminates the need to visit a bank branch for most services. Plus, you can do your banking when convenient for you, even if it's outside of regular business hours.

With UnitedOne's mobile app, your money goes right with you! Easily access online banking on your phone. If you're shopping, you can conveniently view your accounts, transfer funds to avoid overdrafts, and check to ensure you haven't been double-charged for a transaction. Download the UnitedOne Apple or Android mobile app for FREE for 24/7 access to your accounts from anywhere.
In addition to convenience, Digital Banking allows you to:
Check your balances

Make loan and bill payments

Transfer funds between accounts

View your transaction history and monthly statements

Sign up for text message and e-mail E-Alerts for your accounts
When you use Digital Banking, you not only have convenience but peace of mind that your money is secure - no matter where life takes you!
In addition to Digital Banking, we also have Personal Teller Machines and virtual appointments to help our members with their banking.

What is a Personal Teller Machine?
If you're out and about and have questions about your account, UnitedOne has you covered! Our Personal Teller Machines (PTMs) provide a LIVE Video Teller (with extended business hours) and the 24/7 functions of an ATM!
A PTM is a convenient, electronic way to assist you with your banking transactions while providing the face-to-face personal service you've grown accustomed to at UnitedOne. Although it resembles an ATM, you can select the teller option and a live teller will help you through a video chat. We decided to add PTMs to select drive-thrus to improve your member experience and provide you with additional service hours. Our PTMs offer the same personal service and consistent care you receive now, just in a more efficient manner. PTMs are available at our Manitowoc and Sheboygan locations.
And don't forget that we also offer Virtual Appointments to supplement our PTM and Digital Banking services. You can enjoy the convenience of making an appointment to see a Member Service Representative, Loan Officer or Mortgage Specialist from wherever you are!
Join UnitedOne
When you join UnitedOne Credit Union, you become a member-owner of a not-for-profit financial institution with a history of success and service dating back to 1938. No one works harder to provide you and your family with first-class financial services delivered through outstanding personal service. That's the UnitedOne difference and how our "We're here because you're here" philosophy continues to grow our reputation of strength, stability, service, and convenience today.
To learn more about our services or how to become a member, visit our website, schedule an appointment, or call us at 920-684-0361 or 920-451-8222.

Sources
https://thefinancialbrand.com/news/digital-banking/digital-online-banking-coronavirus-95735/
« Return to "Blog"