How To Shop Safely Online This Holiday Season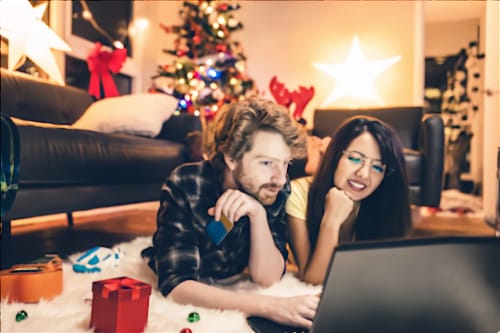 The holiday shopping season is upon us! If you're like the majority of shoppers, you'll probably be making most of your gift purchases online.
While there are the well-known retailers you are familiar with, don't forget that a lot of small and local businesses also have online storefronts available to shop. Shopping locally, even online, is a great way to support your local economy and community. Visit The Chamber of Manitowoc County for a list of all local businesses who also have an online storefront.
According to the National Retail Federation (NRF), online shopping is the busiest during the winter holidays. Unfortunately, due to an increase in shopping, it's also the season when online scammers shop for victims. A 2020 Experian survey reports that 25 percent of Americans have been victims of fraud during the holidays.

At UnitedOne Credit Union, keeping your finances safe and secure is an ongoing mission. One of the best ways to protect your accounts is to become an educated online consumer. Our Digital Safety brochure outlines online security practices you can use year-round.
Here are some additional tips to help keep you and your accounts safe as you make your holiday purchases from the comfort of your own home:
Select credit for online purchases. Use a credit card rather than a debit card whenever possible. When you use a debit card, your money is immediately taken out of your account, and it can be tough to get it back. If you select credit and there is a problem with a transaction, you can dispute the charges.
Choose trusted retailers. Shop with familiar businesses you know and trust. Nowadays a lot of local small businesses also have online stores available. If you plan to buy from a new or unfamiliar company, check for background information. By being selective while shopping online, fewer retailers have your information on file and, therefore, can keep track of it easier.
Monitor your accounts. Check your accounts regularly using the Internet or mobile banking - especially if you're doing a lot of online shopping during the holidays. The sooner you notice suspicious activity, the sooner we can help you fix the issue. However, to better protect yourself and your assets, do your due diligence and make checking your statement part of your financial routine.
Use strong passwords. Most retailers will prompt you to create a secure password, but it's good practice to use a strong password on all websites. Your password should use a combination of upper and lower case letters, numbers, and special characters. Avoid using words or phrases personally related to you, such as a pet's name, street address, or family name. Longer passwords are harder to crack, as are ones that replace letters with special characters.
Use multi-factor logins. If a website offers a multi-factor login option, opt for this extra layer of security whenever possible. Multi-factor login requires not only a password but confirmation from another device only you possess, such as your mobile phone.
Invest in anti-virus software. Whether you have a Mac or PC, licensed anti-virus software is a must for online safety. Set your computer to check for automatic updates. Or, instead of having the update download automatically, manually download updates to ensure the best protection from viruses and malware.
Avoid using public computers or Wi-Fi. If you're viewing your account information on a public domain, it's safe to assume that your browser history and password are accessible to others. Even if your sites are set up with automatic password protection, you can still be at risk. If you must do your shopping on a public WI-FI domain, consider installing and using a virtual private network (VPN). VPNs create an encrypted connection to protect the information you share with an online merchant.
Check Site Security. Before making an online purchase, make sure the website uses secure technology. When you are at the checkout screen, verify that the web address begins with "HTTPS." Make sure your browser's padlock or key icon by the URL is active when making purchases online.
If you have any questions about your financial safety or believe your account has been compromised, please do not hesitate to contact us. We are always here to help! You can contact us by calling either our Manitowoc office at (920) 684-0361 or our Sheboygan office at (920) 451-8222, or by sending us an email.

About UnitedOne
When you join UnitedOne Credit Union, you become a member-owner of a not-for-profit financial institution with a history of success and service dating back to 1938. No one works harder to provide you and your family with first-class financial services delivered through outstanding personal service. That's the UnitedOne difference and how our "We're here because you're here" philosophy continues to grow our reputation of strength, stability, service, and convenience today.

Sources
https://chambermanitowoccounty.org/shopmanitowoccounty-com/8452/
https://www.experian.com/blogs/ask-experian/survey-some-consumers-would-risk-identity-theft-for-an-online-holiday-deal/
« Return to "Blog"