Local People, Local Loans, Work with Your Local Credit Union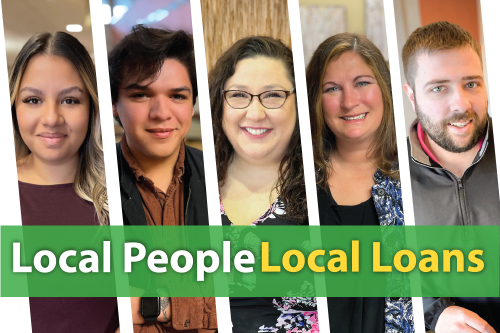 "Shop Local" is a slogan that we are all well familiar with. Local businesses rely on community support to grow and pay their employees. In turn, those businesses use their profits to improve their community in a variety of different ways by creating jobs, donating to local charities, helping with public infrastructure, and investing in the community socially and economically. However, this is not limited to shopping locally. Did you know that you can support your community by getting your loans from your local loan provider? If you live in Manitowoc, Sheboygan, or surrounding areas, UnitedOne Credit Union should be at the top of your list.
At UnitedOne Credit Union, we are member-centric. We've been where you are now, we've helped others in similar situations, and we can help you too! We provide our credit union members with a wide range of loan services to cover their needs and lifestyle. If you are looking for a friendly and professional personal loan service to help you move your life forward, get in touch with our team of personal money lenders today.
Local Communities
Not only does UnitedOne provide loan services to cover your needs but we invest in our local communities as well. We do so in a variety of ways including through volunteerism, financial support, fundraising and creating public awareness of organizations and groups that make a meaningful contribution to the betterment of our communities.
Vehicle Loans
If you're looking for a car loan to purchase a vehicle of your dreams then consider going local with UnitedOne for financing. Cars are a necessity in our lives, ones that come bearing a high price tag. The reality is that most of us can't just write a check for a new vehicle and therefore must seek financing options. To finance your new car through a financial institution like UnitedOne Credit Union gives you as the borrower far more flexibility. Not only are the interest rates competitive, but you can extend your financing much farther to make monthly payments smaller.
Don't forget that it is important to consider what works for you as the borrower. You need to select an option where your monthly payments are manageable and don't put you in a position where your cash flow suffers. This is why financing with UnitedOne will not only help you to acquire the vehicle of your dreams but it will also put your financial mind at ease.
Join UnitedOne
When you join UnitedOne Credit Union, you become a member-owner of a not-for-profit financial institution with a history of success and service dating back to 1938. No one works harder to provide you and your family with first-class financial services delivered through outstanding personal service. That's the UnitedOne difference and how our "We're here because you're here" philosophy continues to grow our reputation of strength, stability, service, and convenience today.
To learn more about our services or how to become a member, visit our website, schedule an appointment, or call us at 920-684-0361 or 920-451-8222.
« Return to "Blog"