Summer Travel Guide: Explore travel with UnitedOne Credit Union Visa® Debit Card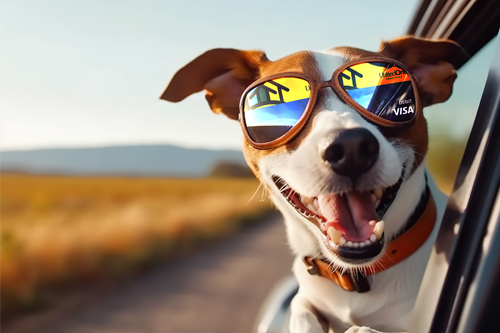 As the summer season approaches, many of us are eager to embark on exciting travel adventures, both domestically and abroad. However, proper financial planning is crucial to ensure a smooth and worry-free experience. In this blog, we'll explore valuable tips for summer travel planning, focusing on both domestic and international destinations. We'll also highlight the benefits of using the UnitedOne Credit Union Visa® Debit Card, including its convenience and security features, making it an ideal companion for your travel endeavors.
Maximizing Your International Travel Experience
International travel requires additional considerations, especially when it comes to financial planning. Informing your financial institution about your travel plans is crucial. This step helps ensure that your transactions abroad are not flagged as suspicious, preventing any inconvenience. Additionally, familiarize yourself with currency exchange rates and consider carrying a combination of cash and a secure travel card, like the UnitedOne Credit Union Visa® Debit Card, to facilitate your spending while minimizing the risk of carrying large amounts of cash.
Financial Planning for Domestic Travel
When planning a domestic trip, it's essential to establish a budget and consider various financial aspects. Start by researching and comparing prices for transportation, accommodation, and activities to find the best deals. UnitedOne Credit Union offers a range of financial services, including savings accounts and budgeting tools, to help you plan and manage your funds effectively. Additionally, investigate travel insurance options to protect yourself from unexpected expenses while planning for domestic travel.
Benefits of UnitedOne Credit Union Visa® Debit Card for Travel
The UnitedOne Credit Union Visa® Debit Card offers several advantages for travelers. It provides convenience and acceptance worldwide, allowing you to make purchases and access cash at ATMs wherever you go. With its chip technology and secure encryption, the card offers enhanced protection against fraudulent activity, giving you peace of mind during your travels. Furthermore, the UnitedOne Credit Union Mobile App enables you to conveniently manage your card and monitor your account while on the go.
Additional Travel Tips
a. Notify UnitedOne Credit Union: Before embarking on any international trip, notify UnitedOne Credit Union about your travel plans. This step ensures that your card remains active and prevents any disruptions in accessing your funds.
b. Research International Transaction Fees: Understand the fees associated with international transactions to avoid any surprises. UnitedOne Credit Union provides transparent and competitive rates, allowing you to plan your expenses accordingly.
c. Keep Emergency Contacts Handy: Save important contact numbers, such as UnitedOne Credit Union's customer service and card support, in your phone or travel documents in case you need assistance while abroad.
d. Stay Vigilant with Security: Be cautious with your personal and financial information while traveling. Avoid using public Wi-Fi networks for sensitive transactions and regularly monitor your account activity through the UnitedOne Credit Union Mobile App.
Summer travel planning, whether domestic or international, requires careful financial considerations. By utilizing the UnitedOne Credit Union Visa® Debit Card, you can enjoy the convenience, security, and global acceptance necessary for a worry-free travel experience. Remember to inform UnitedOne Credit Union about your travel plans, keep track of exchange rates, and follow essential travel tips to ensure a seamless journey. Pack your bags, plan your itinerary, and embrace the adventures that await with the UnitedOne Credit Union Visa Debit Card by your side.
Note: It is essential to verify the specific details, terms, and conditions of the UnitedOne Credit Union Visa® Debit Card, including any applicable fees or features, directly from the UnitedOne website or by contacting their customer service before making any travel arrangements.
« Return to "Blog"