Credit Union Jobs: Current Opportunities
Our employees love working at UnitedOne Credit Union. We had 90% of our employees participate in an Employee Pride Survey and 100% of them agreed that UnitedOne is a great place to work! Our UnitedOne team looks forward to continuing to create extraordinary experiences for our members as we celebrate our 85th anniversary this year.
Employment at UnitedOne is both rewarding and challenging. Employees who have a genuine desire to help others will excel at UnitedOne. We are driven to hire and retain only those persons who are dedicated to delivering outstanding service to our membership. As a full-service financial institution, UnitedOne currently employs more than 85 professionals in numerous fields of expertise.
If you feel ready to join our team, we encourage you to apply online.
If more convenient, you may also send us your résumé and cover letter. Please fax them to (920) 652-2052, or mail them to:
Human Resources
UnitedOne Credit Union
1117 S. 10th St.
Manitowoc, WI 54220
UnitedOne Credit Union is an equal opportunity employer.
---
My UnitedOne Stories
Employees share their experiences about how they started working at UnitedOne Credit Union and why they enjoy their jobs.
---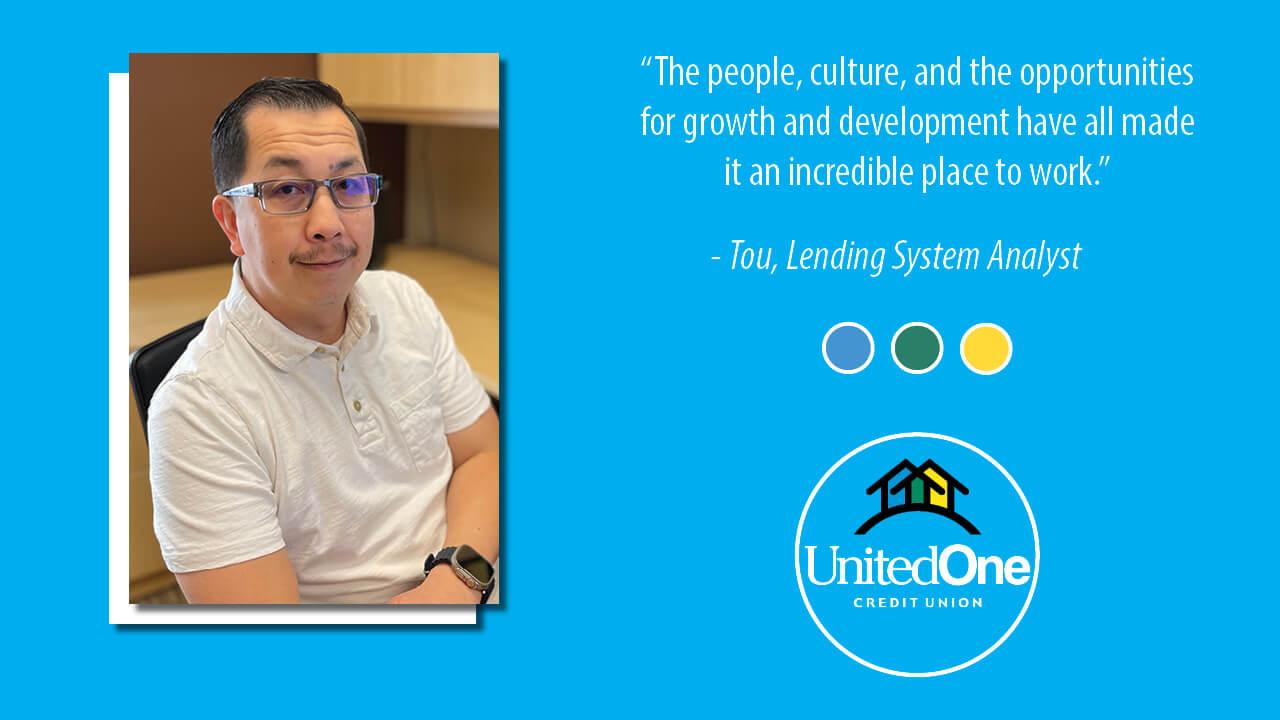 Written by Tou, Lending System Analyst

Working at UnitedOne Credit Union has been an incredible experience for me since 2019. While browsing online I saw that UnitedOne Credit Union was looking to fill an IT position. I then applied and the rest is history from there.

I am currently working as a Lending System Analyst. In this role my duties include support, customization, and server management. One thing I really appreciate about working at UnitedOne Credit Union is the willingness of all employees to lend a helping hand and guidance whenever needed. This has allowed me to grow personally and professionally.

Another aspect of UnitedOne Credit Union I enjoy is the emphasis on work-life balance. While we work hard to achieve a common goal, there is also strong emphasis on taking care of ourselves and our families. This has allowed me to achieve a sense of balance in my life that I haven't experienced at previous workplaces.

Overall, I can confidently say that I love working at UnitedOne Credit Union! The people, culture, and the opportunities for growth and development have all made it an incredible place to work. I look forward to continuing my journey here and contributing to the success of the company.
---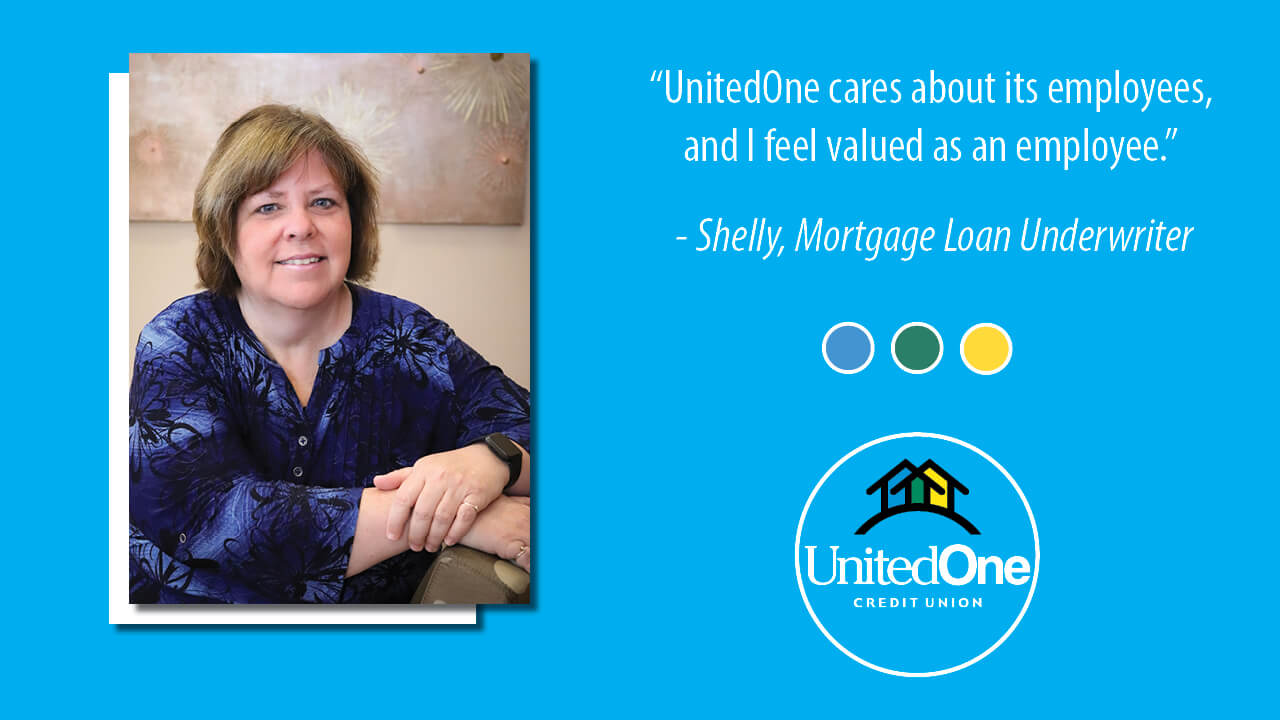 Written by Shelly, Mortgage Loan Underwriter
I have been with UnitedOne since 2009, and it is a great place to work.

UnitedOne cares about its employees, and I feel valued as an employee. I feel heard by management and appreciated for the work as well as the extra things I do.
I have always worked in the Mortgage Department, and we have a great team.
I do know several employees that have changed positions and departments. There are opportunities to advance, be involved, or just learn new things.
If you are considering applying for a position with UnitedOne Credit Union you will be glad you did!
---
Written by Sherri, Administrative Assistant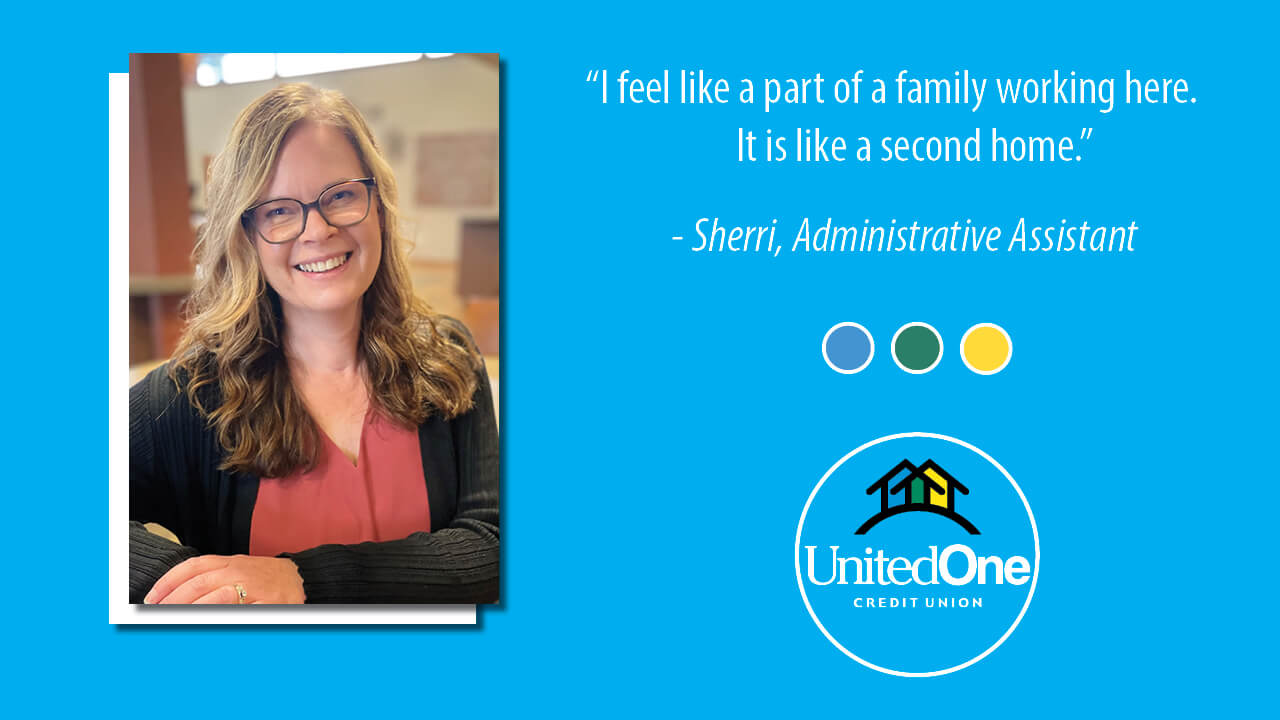 I have worked at UnitedOne Credit Union for 14 years. I started out as a part-time Document Specialist. I am now working full-time and my official title is Administrative Assistant.

I still do many of the things that I did when I started here, but have added different tasks and do many things differently as we have continued to change with the times.

There are many reasons I love working here. I love the flexibility that my job has offered. That was probably the first thing that made this a perfect place for me. I had young children when I started and needed something flexible.

It is a very family-oriented place. They know our families are important to us, and I feel like a part of a family working here. It is like a second home. We have the best co-workers and leadership/management here. I feel like they listen to me and are open to suggestions.

It is a very positive environment and culture that is always striving to be better – better for our members, better for our employees, better technology, and staying ahead of many other financials and businesses in our area.

We are very community service driven. We are encouraged to get involved in the community and our employees are very passionate about helping others.

They have many programs to develop us and train us so we can be the best at what we do.

They offer great benefits like matching 401(k), time off, health program (which I love). I am lucky to work here.
---