6 Tips for Sticking to Your Holiday Budget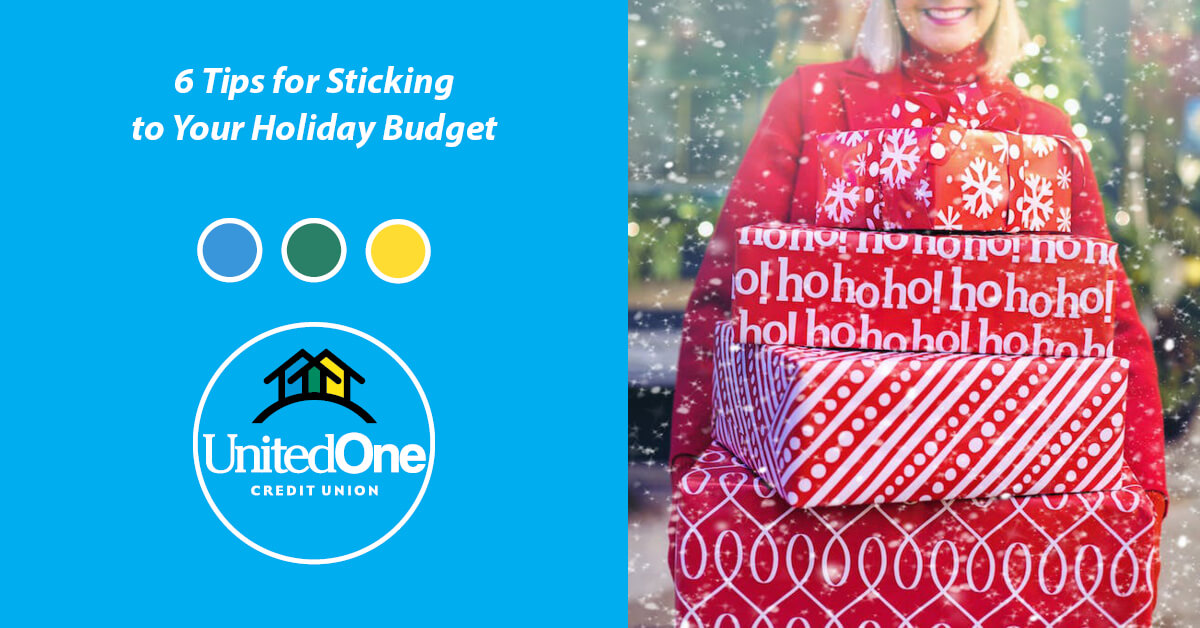 If you love giving gifts to your family and friends, it can be hard to not overspend during the holiday season.

Even those who are good about staying on budget all year end up splurging a little too much when it comes to gift giving.

But sticking to your holiday budget doesn't have to be hard. It's all about planning ahead. Here are six quick tips for sticking to your holiday shopping budget this year.

Tip 1: Make a list for everything

Lists are an important part of keeping your finances organized any time of year, but especially during the holidays. Make separate lists for holiday food, decorations and gift costs. Keeping a list of all your potential expenses will help you to prioritize your holiday expenses. Purchase the items high on your list, then check them off, and see how much money you have left to spend on the remaining items.

Tip 2: Only spend using debit card

If you tend to purchase your gifts in a store rather than online, try using only your UnitedOne's debit card to do your holiday shopping. It is much easier to overspend when you're using a credit card. Using your debit card to make your holiday purchases helps you to clearly see exactly how much you've spent and how much is left in your budget by using Alerts through Digital Banking.

Tip 3: Take time to find deals

Start comparison shopping before the holidays even start. If you don't know how much a product normally costs, how will you know if you're getting a good deal on for Black Friday? It's important to take time to find deals. Don't be afraid to return an item to the store if a better discount for the same item comes along.

Tip 4: Cut back your giving

Although the holidays are the time for giving, you shouldn't put yourself in financial hardship over them. Keep your gift-giving list short. If your budget is tight, you may have to skip the office gift exchange or skip mailing greeting cards. It may not be what you want to do but come January your finances will thank you.

Tip 5: Set expectations ahead of time

If you tell your family and friends about your holiday budget, they will likely understand; they are probably all on a budget too. Working together you may even be able to save each other money by going in on gifts together or by agreeing to not purchase each other gifts.

Tip 6: Start a Christmas Club for next year

A Christmas Club account is a convenient way for UnitedOne members to save for the holidays and avoid last-minute money issues. Members can make deposits via payroll deduction or internal transfer. Funds from this account will automatically transfer with dividends to their Primary Share on September 30.

If you need an extra boost for your holiday shopping this year, UnitedOne's Holiday Loan can help you check off all the items on your gift-giving list.

About UnitedOne
UnitedOne Credit Union has branches in Manitowoc and Sheboygan, and is open to everyone living or working in Manitowoc, Sheboygan, Kewaunee and Door counties. The credit union serves consumers and small to mid-sized businesses.

When you join UnitedOne Credit Union, you become a member-owner of a not-for-profit financial institution with a history of success and service dating back more than 80 years. Our "We're here because you're here" philosophy continues to grow our reputation of strength, stability, service, and convenience today. We embrace a successful and straightforward member-owned cooperative mission: meet the financial needs of our members by empowering them with the knowledge to make informed financial decisions. That's the UnitedOne difference.

To learn more about our services, contact us today! You can book an appointment online to see a Member Service Representative or Mortgage Specialist. You can also call us at 920-684-0361 or 920-451-8222.
« Return to "Blog"