UnitedOne Community Involvement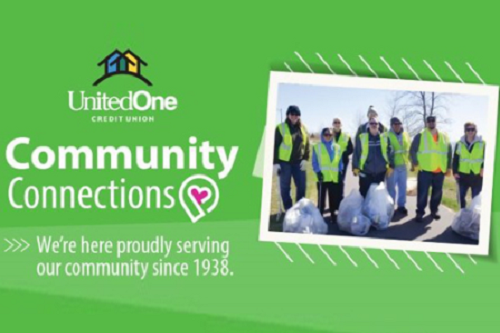 UnitedOne is committed to improving the lives of everyone in the communities we serve by giving you the financial help you need, when you need it. We pride ourselves on knowing our communities well, because we employ directly from the communities we serve. From Manitowoc and Sheboygan to Kewaunee and Door counties, we're here because you're here.
As a local credit union, we're dedicated to giving back to our residents by participating and investing in community programs and outreach efforts. Take a look at some of our community connections:
Meals on Wheels. At UnitedOne, we are proud to participate in the Meals on Wheels program, which provides meals to senior citizens with financial, social, or mobility issues. This wonderful program not only gives free meals to seniors, but it also pulls many senior citizens out of social isolation. In some cases, Meals on Wheels can also provide food, grooming, and veterinary services to pets as well.
Scholarships. We give out academic scholarships to qualified students in our counties looking to continue their education after high school. Though scholarships are limited, we are proud to give out 2 scholarships this year in the amount of $1,000 each to 2 amazing students! Learn more about our scholarship winners.
Events. Check out some of our community events! From festivals, holiday events, and local and regional celebrations, we run events open to residents from all of our county residents, providing you a safe and fun place to spend your time and connect with others in the community. Many of our events also feature small businesses and vendors, furthering our mission to support local businesses.
Local Businesses. We would be nothing without the many local businesses, organizations, and charities that we partner with. We support a variety of businesses from different industries, including UnitedWay, several local elementary schools, Sheboygan County Chamber of Commerce, League of Women Voters, Manitowoc Youth Hockey Association, and the Aurora Mindful Tri Against Cancer. Visit our website for a full description of our community partnerships.
Furthermore, here are just some of the many things our generous employees have done in the past months.
April 13-15th

Staff members led mock interviews with high school students

Tuesdays

Staff members (Spring, LeAnn, and Julie) deliver Meals on Wheels.

April 17th

Staff members had the first cleanup along the lakeshore for Adopt-A-Highway

April 24th

Staff members (Sherri and Ann) volunteered at the Winter Market.

May 1st

Staff members (Dawn, Nellie, Monika) raised $950 for the MS virtual walk

May 8th

Staff members (Julie, Sherri and Amy) volunteer for the Lake Michigan Beach Cleanup
Thinking of joining a credit union? UnitedOne is the credit union for you! We offer checking and savings accounts for personal or business use, as well as a variety of loans for all of life's biggest purchases and events. Visit our website for more information or visit our contact page to send a request.

« Return to "Blog"