Giving Back to Our Community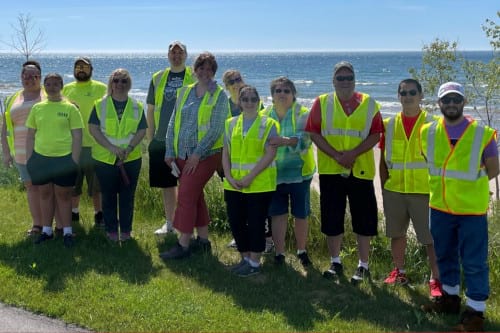 UnitedOne Credit Union is committed to bettering the lives of those in our communities. By embracing the credit union philosophy of 'People Helping People,' we deliver cost-saving financial products, support local organizations, and empower our employees via training so we can better serve our members and our community.

As a local credit union, we're dedicated to investing in and giving back to our community. Take a look back at some of our community connections in 2021:
Affordable Financial Products
Our annual spring auto loan promotion, Loanapalooza, offered great vehicle loan rates as well as a chance for our members to win $1000 dollars. UnitedOne also donated $5000 to local 501c3 organizations during this promotion as our way of sharing the love and giving back.

Volunteering
We volunteer with various organizations, making a meaningful contribution to the betterment of our communities. Here are a few of the things our staff did in 2021.
Adopt-A-Highway

Bell Ringing with the Salvation Army

Day of Caring with United Way

Habitat of Humanity

Ryder Cup

And much more!
View more ways UnitedOne connects with our communities.
Scholarships
We're here to help you succeed! For several years, UnitedOne has given a $1,000 scholarship to one recipient in Manitowoc County and one in Sheboygan County to continue their education. Congratulations to Camille Nelson, who is pursuing a Nursing degree at Minnesota State University - Mankato, and Lila Thao, studying Nursing at Lakeshore Technical College in Cleveland.

Schools
We are happy to be back in our local schools for the 2021-2022 school year! We work with our local educators and leaders to find ways to help our students build strong financial habits they can use for a lifetime.
UnitedOne provides Manitowoc Public School District with in-school student-run credit union branches at Monroe Elementary, Jefferson Elementary, Jackson Elementary, Washington Middle School, Wilson Middle School, and Lincoln High School.

Staff Development
This year, we had an excellent, in-person, all-staff training and education session where we heard from various thought-leaders within our communities. The information gathered was taken back to our branches to help better serve our members.

UnitedOne has been a part of our local community since 1938 – that's more than 80 years of being part of our community and helping members build financial strength. We are part of the community. We live here, work here, our kids attend school here, and we volunteer here.

In 2021, UnitedOne employees volunteered more than 2,000 hours within our community – an investment in our future. Expect more of the same in the upcoming year as we continue to deliver services that go beyond the expectations of our members and community.

When you join UnitedOne Credit Union, you become a member-owner of a not-for-profit financial institution with a history of success and service that is now serving over 22,000 members in 4 Wisconsin Counties. We embrace a successful and straightforward member-owned cooperative mission: meet the financial needs of our members by empowering them with the knowledge to make informed financial decisions. That's the UnitedOne difference.

Book an appointment online to see a Member Service Representative or Loan Officer today! Or call us at 920-684-0361 or 920-451-8222.

« Return to "Blog"