Importance of Financial Education in School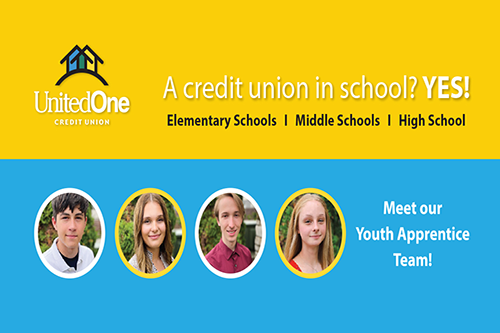 UnitedOne Credit Union strives to improve financial education not only for our members but also for students in our communities. With our in-school credit union branches, we aim on teaching our local students important life skills, like teamwork, interviewing, job applications, training, responsibility, and confidentiality. Many Youth Apprenticeship students have turned the experience into a career, as some of our former Youth Apprentices have been with us for over 20 years!
We're proud of our strong history with the Manitowoc Public School District, dating back to the opening of our first school branch at Monroe Elementary in 1996. Today our elementary staff at Jackson, Jefferson, Monroe, and Madison are picked by the school. The student staff consists of a team that will operate and market the school credit union. Our branch at Lincoln High School is staffed by our Youth Apprenticeship students and our middle schools at Washington and Wilson are staffed by student Tellers!
The objectives of our program are:
To improve financial understanding and knowledge in our communities.

To work cooperatively with educators and parents in developing responsible young consumers.

To provide students the chance to begin developing good savings habits right in their school, where it's convenient, and to understand the value of doing so.

To teach students about savings and financial responsibility.

To give students the opportunity to become involved in authentic learning experiences, by taking active roles in marketing their credit union, setting goals, putting plans into action, and watching their credit union grow.

To give UnitedOne Credit Union employees the opportunity to become involved with our community's youth and share professional knowledge with students.
Getting a head start when it comes to financial education can help students to develop the skills necessary to achieve financial success later in life. From saving and investing to creating and sticking to a specific budget, early money lessons can give students a leg up when it's time for them to make more significant financial decisions such as taking out a mortgage, applying for a loan, or starting a business.
Here at UnitedOne Credit Union, we built our reputation thanks to our amazing local communities and we strive to give back in any way that we can. We are passionate about improving the lives of our residents and providing important financial education in our local schools. If you or an immediate family member lives or works in Manitowoc, Sheboygan, Kewaunee, or Door counties consider becoming a member to experience a wide variety of benefits that we offer!
« Return to "Blog"