No Better Time than Now to Join UnitedOne!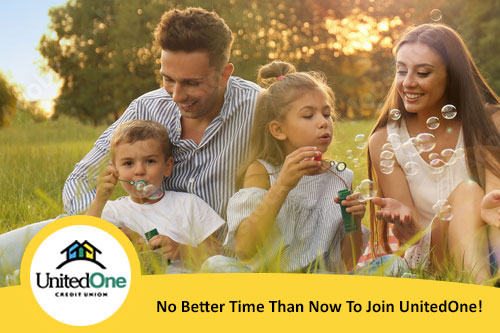 Enjoy Great Benefits of UnitedOne Credit Union Membership!
Are you looking to join a bank or a credit union? Look no further than UnitedOne Credit Union. Not only does UnitedOne Credit Union offer great benefits to our members but unlike a traditional bank, UnitedOne is governed by a volunteer Board of Directors composed of UnitedOne members. From its humble beginnings in 1938 UnitedOne has grown to be one of the largest credit unions in the area serving members in Manitowoc, Sheboygan, Kewaunee and Door counties.
What are the advantages of becoming a UnitedOne member you may ask? Well, here is a short list with just a few of many benefits that are UnitedOne members get on the daily basis:
So what are the items you'll need to become a member and open an account at UnitedOne? All we require is for you or an immediate family member to live or work in Manitowoc, Sheboygan, Kewaunee or Door counties. You will also need to provide us with the following items when you open an account:
Valid driver's license or state-issued photo ID

Social security number

Minimum deposit of $5 to open a Primary Share Savings, and an additional $25 for a checking account if ordering checks
Don't hesitate to contact us if you lack any of the above three items.
Here at UnitedOne we pride ourselves on our amazing customer service, and our dedicated staff who will always help you, no matter where you are in life. No one works harder to provide you and your family with first-class financial services delivered through outstanding personal service. That's the UnitedOne difference and how our "We're here because you're here" philosophy continues to grow our reputation of strength, stability, service, and convenience today. Join us today to become a member and enjoy all of our amazing benefits!
Membership restrictions may apply. Account approval, conditions, qualifications, limits, timeframes, enrollments, log-ons and other requirements apply. No minimum deposit is required to open the account. There are no recurring monthly maintenance charges or fees to open or close this account. A Kasasa Cash Back account is required to have a Kasasa Saver account. A linked Kasasa Saver account is required for automatic savings. Advertised information and rewards are based on all account qualifications being met during each cycle period. Contact one of our member service representatives for additional information, account details, restrictions, reward calculations, processing limitations, cycle dates and enrollment instructions. Federally insured by NCUA.
Trademarks:
Kasasa, Kasasa Cash Back and Kasasa Saver are trademarks of Kasasa, Ltd., registered in the U.S.A.
« Return to "Blog"